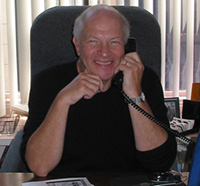 George Krevsky, Director of Krevsky Fine Art (KFA), specializes in 20th century American Art in the figurative tradition. With a commitment to offering art of the highest quality that documents the cultural history of the last century, the guiding philosophy is to make historically significant fine art accessible to all levels of collecting.

George's interests begin with the rise of urban scene painting during the Ashcan period and continue with the theme of urban imagery and political activism through Social Realism. Additionally, he follows Depression-era WPA art with Regionalist works both by national leaders, as well as, California artists. George also focuses on Post Armory Show Modernists along with works by Bay Area Figurative Artists. A select group of Northern California artists whose work is consistent with his interests are featured; painters Lawrence Ferlinghetti, Helen Berggruen, and Diana Krevsky, sculptors Ken Kalman and Fletcher Benton, and photographer Richard Nagler. All have lived and worked in the San Francisco Bay Area.


A popular feature of the KFA's expertise is its over 20 years of Art of Baseball exhibitions where artists from across the country contribute paintings, prints, drawings, photographs and sculptures to celebrate America's National Pastime.

George Krevsky began in the art business in San Francisco in 1978, and spent 22 years directing the George Krevsky Gallery from 1992 to 2014 in the Union Square district of downtown San Francisco. Mr. Krevsky has served as a board member of the San Francisco Art Dealer's Association from 1996 through 2005, acting as Co-chairman in 2005-2006. The physical space has moved to the Rockridge District of the Oakland Hills where clients are seen by appointment. The new direction focuses on selections from current inventory, art advising, consulting, curating and appraisals.

George Krevsky
Owner / Director

STAFF:
Doris Krevsky, Associate Director
Rachel Amberg, Gallery Assistant
Hilda Chen, Graphic Designer
Group D Communications, Website